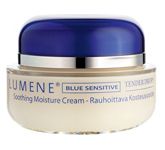 Lumene Sensitive Tender Drops Soothing Moisture Cream
As low as
sensitive touch daily moisture cream

I have used this face cream three times now and I really like it. I haven't tried anything like this before, the texture is so soft and it melts into your skin with a velvety consistency. It wears well under makeup and seems to give a nice glow. It is still early in my usage though so I'll give it a few weeks to notice long-term effects.

a GREAT nightcream

I've been using this product for about a month now and I'm in Love! This product goes on smoothly, and a little dab will go a long way. Its creamy texture translate into a gentle nightcream that is absorved quickly and does not feel greasy on the skin. I have very dry and sensitive skin and it's been a long search for a product that wasn't greasy feeling and didn't feel heavy sitting on your skin ...read moreafter application. In my opinion this product is just as good, if not better, than a lot of the other similar products sold for a MUCH higher price point at cosmetics counters in department stores. My only complaint is that not all CVS stores carry this product anymore (due to slow sales) and it's getting harder and harder to find. I wish the company had spent some money advertising this product. Now I just stock up on Lumene products whenever I see it on a shelf. This is one of the best kept "beauty on a budget" secrets out there.

Love this

I picked this cream up the other night and have only used it twice, but I absolutely love this! My skin is combo, oily in my t zone, with ocassional breakouts. I picked this up because it's designed for sensative kin, and mine is super sensative to fragrances and coloring. This has no fragrance or dye, it's light, but still heavily moisturizes even oily skin like my t zone. I didn't wake up with a...read more shiny face, my makeup has gone on smoother, and for the price it's just as good if not better then the yellow moisturier everyones tried from a certin makeup counter. My skin actually appears to have a glow, and it's supple and moist looking. Not oily. I would highly reccomend this.
Back
to top