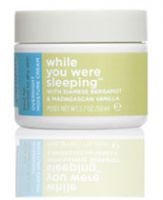 Grassroots Research Labs Grassroots While You Were Sleeping Overnight Moisture Cream
As low as
Great scent, but a little greasy

This stuff smells delicious, like vanilla. I found it was a bit too heavy and greasy for my skin, though. I ended up using most of it as eye cream. It might work better in the wintertime or for people with very dry skin year-round.

Like a Vanilla Martini!!

This night cream smells so delish! I could drink it! Great for dry skin. Very soothing as you apply, and really is like aroma therapy. It is a very relaxing scent as it calms me down from a hectic day. As is the rest of the Grassroots line, there is no added fragrance to this product. It is just the essential oils that are used that create the smell. And this smell is wonderful! Also, try the lotion formula if a cream is a little heavy for you. Same results, just lotion instead.

Sooo Luxurious!!!

This wonderful cream pampers your face before bed. The vanilla scent is to die for. I look forward to using it at night. I have oily skin and this cream works wonders. Though this is definitely one I would not use during the day. In the morning my face is noticeably oily. But it has spent the night repairing itself so I don't mind a little oil in the morning.
Back
to top