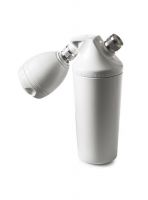 Can't be without it

Remember that show on A&E called "Blow Out" from a few years ago? I quickly adored Jonathan Antin's quirky and egotistical ways. Mainly, I sympathized with him because I was doing hair at the time and I looked to him for inspiration. Did it work? I dunno, I don't do hair anymore… but who knows what the future holds? He came out with some great styling produ...read morects like Dirt and his shampoos are awesome. What I fell in love with most… Jonathan Product Beauty Water. That's right. I fell in love with a shower filter. City water is so craptacular it was irritating my skin, making my back scaly, drying out my hair, and breaking me out. In the hopes of this filter making a difference in at least ONE of those things, I shelled out the cash for it. Another thing I love about it is that's it's a California water conservation shower head, so you aren't wasting precious resources while feeling luxurious. The pressure isn't compromised in any way. This is a must buy. It did all of the things I wanted it to. Filter replacements are also available.

Wow My Hair Is Gorgeous!

I did some research before I bought this, and was surprised to find that the Jonathan shower filter removes more gunk than most others. I am no longer having problems with my blonde haircolor going ashy after a few weeks. This was a huge problem for me in the past. I think it reduces my water pressure slightly, but the results are worth it.

3 weeks and no change.

This is very easy to install and is very interesting to watch all the black bad water come out of the shower when you first attach it. Perhaps I don't have very hard water, but I did not notice a difference in my skin or hair. I can feel the difference just in the water itself when it falls on my skin, but no after effects. As i said before, maybe my water isn't as hard as others. I would keep it anyways if it wasn't for the $50 refills.
Back
to top