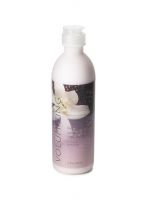 Not bad, not great

I have a full size bottle of this conditioner that I've used on and off for years (do they even still make this?). Mine is a lovely citrus scent, and honestly, that's the best quality the product has going for it. It's reasonably moisturizing, but not any better than most other average conditioners. The consistency seems to be thinner than most conditioners, actually, which I always found odd. Mos...read moretly I use my full size bottle to refill a much smaller bottle that I use occasionally for travel. The scent I have matches the scent I also own for the shampoo which is nice. But once I run out, even if they do still make it, I won't be replacing it. It just isn't impressive at all and there are better conditioners out there.

Nice light conditioner

I have short, dry, thick, straight hair. I really like this range because it leaves my hair soft and light. It moisturizes without weighing my hair down so while I don't consider it volumizing it isn't de-volumizing like so many other shampoos and conditioners. Some reviewers mentioned getting build-up. I haven't really had a problem with it but I do use a clarifying shampoo once or twice a mo...read morenth or more often if I use a lot of product so that could be it. The price is reasonable and during a sale a bargain. The scents in the range are really nice.

Weighs hair down a bit

At 12 fl oz / 355 ml, $3 isn't too bad for the amount you're getting. I'm not sure if this line is still currently in production with Bath & Body Works, but I see some bottles of these in the last semi-annual sale. Not sure if they were leftovers or what. The scent up for review is Warm Vanilla Sugar. I know for sure it also comes in Mango Mandarin, but I can't remember the rest. It comes ...read morein a typical flip top plastic bottle. The front text reads "for fine or normal hair". The back of the container reads the following: "Experience the seductive fragrance of vanilla steeped in delicious spices. For Daily Beauty: Indulge your fine or normal hair with this luxurious, light conditioner that adds body, shine and fullness. After shampooing, squeeze excess water from hair and massage in conditioner, starting at the ends and working up towards the scalp. Formulated to detangle, defrizz and help protect from the elements, this conditioner rinses cleanly away to ensure hair is not weighed down. For maximum body and volume, first wash hair with warm vanilla sugar volumizing shampoo." Verdict? I like it, but I'll pass. It smells great if you like the smell of baked goods. I know some people that absolutely hates bath and body products smelling like food items. Conditioner works as expected, but not as well compared to many others I've tried. I feel that it does weigh my hair down a bit when using it. This is based completely on my experience with various shampoos I've used over the years. I do prefer the scent Mango Mandarin better, so I'll stick to that one instead if I spot these on sale again this year for $3.
Back
to top