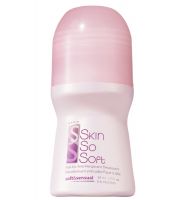 works for my sis, like a spell

my sis since she had her second baby, is constantly overheated and always profusely sweating, and her other deodorant stopped working for her. she bought this b/c it was on sale and in a scent she liked from the sss line avon has. it keeps her dry, all day, with any weather and 2 babies to chase, and smelling fresh and pretty, and the addtitonal ingredients it has, like shea butter, made her skin...read more softer and her shaving easier she said too. all with out irritating or needing to reaply, and it doesnt leave any marks on her clothes or take a long time to dry [its a liquid roll on]. for 99cents its phenomonal, an incredible value and a perfect product, but it works so well, you'd glady pay 10$ for it. if you sweat alot and have sensitive skin, try this !

Good deoderant

Figured to try a roll-on in one of my favorite scents. It does a good job, provided I don't sweat profusely!!! LOL It smells great, goes on great, no complaints here.

Best bet for your buck (literally)

Cheap doesn't mean poor quality in the case of this deodorant. This keeps me dry and odor free even in the middle of the summer, humid heat in Georgia. Even the clinical strength ones didn't do that for me. I like the light scent as well. The new version that helps prevent hair growth also works really well. It you don't order Avon, this is a good reason to start.
Back
to top