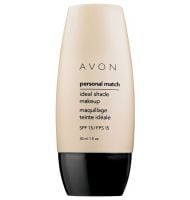 Avon Personal Match Foundation

I have used this and found it good to use on some occassions. I was sad to see it discontinued, but recently found it in the Avon Outlet book, so I ordered a few. I like the product because it is great for my very fair complexion. This product does not give heavy coverage, but with powder it does the job. On days that I want a lighter feel, it works good with Magix as a primer. I really suggest this product if you have light skin and have difficulty finding the right shade.

Please bring it back!

I have a terrible time finding makeup to match my really odd skin tone. I'm very red and this really makes my face look normal and natural. I could cry since they took this off the market and I hope that they bring it back. I really don't know what I'm going to use from here on out. I'm trying to make this bottle last forever!

Works ok

This is a good foundation for the price. I like the coverage, which I don't feel is too heavy. I think it does blend well.