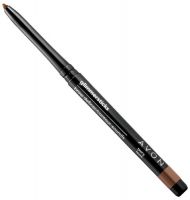 great liner

Avon's glimmersticks line is great! the formula is very creamy and blends very well! The color lasts for hours. I hate the packaging though. I'm not a fan of twist up tubes.

Works great

Applies smoothly, easy to blend, and removes easily. Avon usually has it on sale and if you can always return or exchange if you happen to order the wrong color the first time. Perfect.

Nice Eyebrow Pencil

I ordered 2 for the first time from Avon. I like the Eyeliner Glimmersticks, so I thought I would give the brow pencil a try. The black was a good match for me (I have med-dk brown hair), but the dark brown was to reddish. I might use it for eyeliner or in a pinch. The brow liners go on smooth and are long lasting.