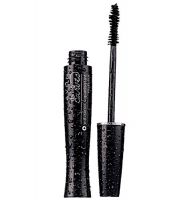 no curls for this girl

its a good mascara, hate the brush, but i dont see any additional 'curling'. my lashes are incredibly straight tho, so it maybe im a hard case!

Not bad

The curvy brush is great for giving instant thickness and volume, although the mascara is quite thick and using too much can leave your eyelashes clumpy. Good value for its money as it is quite cheap.

not soooo daring curves

My friend loves this mascara, which is why I tried it. Her eyelashes are longer than mine to begin with, not that mine are supershort or anything, so maybe that's why it works better for her... I thought the separation was good, not multiple lashes sticking together, but the effect overall was just a little blah. The price, of course, is really good. However, I think it's worth it to spend a...read more few dollars more for more distinct looking lashes overall. This one didn't curl mine up as much as I would have liked, and while it wasn't doing that, it was particularly lengthening or thickening them either. I guess it was a "natural" look?
Back
to top