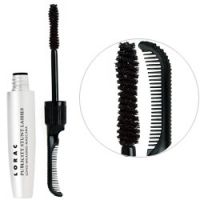 Unsatisfactory

This product came in a summer kit I bought. While the other products in the kit were good, this one was not. This mascara did not make any difference in my lash length. Nor did it give much colour either. The cap that covers the comb was VERY hard to remove. Combing the lashes removed some of the product too. Removal of the mascara was not as easy as the description implied. I did not like the &qu...read moreot;tube" effect. As far as lasting 3 days, it would be hard to do, especially if you wear other eye makeup. The removal of that would affect the lashes themselves. I doubt I will use this product again, one time was enough. The only pro to this product is that it did apply without clumping. But that matters little when it has no effect on the lashes as a mascara should.

OK, but not all it is said to be

This LORAC mascara is good, it does not come off with rain drops or tears, but if you rub your eyes, the "tubes" around your eyelashes will come off. So there was no smearing or smudging, but there was plenty of flaking. That is why I ended up returning it back to Sephora!

not worth it!

I love the brand LORAC... but hate this product. It didn't even look like I had put mascara on. It seriously would take me 5 coats to notice a difference with this mascara. I do NOT recommend this.
Back
to top