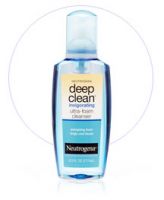 i love the tingles

when you leave the foam on for a little while you feel the tingles. i like it because its soothing. i noticed that in a day or 2 it really cleared up the acne. i had less but after the shower, my face was dry. so if you use this, moisturize. i really like it because of the tingles and it really does clear up acne after a few uses. the only negatives: parabens and dryness.

Great Stuff!

Loving the tingle feeling. It gives me a little boost in the morning or even at night. I actually think the tingle feeling does mean this product is doing its job. I especially notice the tingle on the most oily places of my face. It does dry your face out a little so its good to follow up with moisturizer. Unlike a lot of acne products, it has actually helped my face clear up in less than 2 weeks.

It does the job

So yeah, it has claims. and i dont really think the tingle you feel is from the deep clean, but it does tingle, and it gets all traces of oil, dirt, and bad stuff off of your face. Not good for sensitive skin, but it keeps your skin from breaking out (by getting rid of the bad stuff) if you use it twice a day. It also makes my skin really smooth.
Back
to top