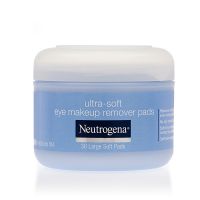 Very soft.. BUT does not take off mascara

I recently purchased these makeup remover pads because I left my Avon eye makeup remover clean at home while on a trip and needed something to replace it. The pads are very soft but not very wet. They feel a little dry to the touch. It doesn't really take off all my eye makeup and I wake up with black smudges under my eyes. It's really frustating that it takes 2 pads to get all my eye makeup off a...read morend I really don't even wear that much. My mascara and eyeliner are not waterproof and these pads still can't take them off. I will not repurchase these. I will continue to use them until I finish them just so I don't waste the product. If anyone has a recommendation on a good makeup remover please send me a message.

Traveler-Friendly and Effective

Packed in my makeup bag right now is a little Zip-loc baggie of Neutrogena Ultra-Soft Eye Makeup Remover Pads. I have taken bottles on prior trips and end up with an oily residue in my bag. These are gentle yet effective at removing even waterproof eye makeup. Great price, too.

Great until my skin became more sensitize

So I used to use these all the time and they work wonderfully. They are nice for traveling and are a great size to get the whole eye. I had to stop using them though when my skin became irritated by the solution. Especially in the winter with my dry skin, the chemicals in there made my eyes burn so much. I won't be buying them anymore sadly. I have to use more natural products on my face now.
Back
to top