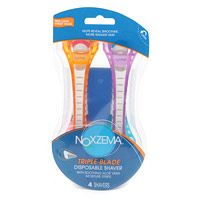 shaped just right

These are the best disposable blades I've ever used, and I'd buy the refillable kind next time if it's Noxema.

Noxzema Triple Blade Disposable

I used these the first time, and it was ok for the price, although I had to shave 3 times to remove hair. This last time, I cut myself as I did before with these only to end up going to the hospital with a serious case of infection(cellulitis). Now I cannot walk and do not know if the antibiotics will even work. I would never advise anyone to use this dangerous product. I now have 2 scars too many.

I'll stick with Venus

I really don't care for these shavers. I'll stick with the Venus Disposables. You definitely get what you pay for here. I actually just used one and I'm throwing the rest of these away. I'm very frugal and I rarely throw a product away even if I don't like it so if that tells you anything.
Back
to top