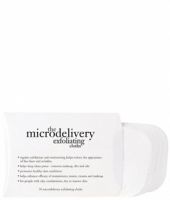 Review subject

I love pretty much all things made by philosophy, but even I have to agree that these little rectangles made no sense to me. They were awkward to use, I didn't feel anything while using them, and I saw no difference after I'd used them. For $15, it was quite disappointing.

This really works, as long as

...you use it with the Microdelivery Exfoliating Wash by philosophy. I think they're meant to be used together, and workd very well that way. I agree with others that they should just leave out the cutout for whatever the heck kind of grip they think you should get on it. It does work, though, with the other, quite well.

Bad Idea

Thank goodness I found these at TJ Maxx and didnt pay full price. These things are just awkward to use and aren't effective at all.
Back
to top