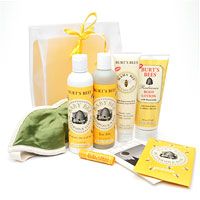 Great Baby Shower gift

This is a great baby shower gift, but it is more geared to mom than baby. There is also a Burt's baby bee kit so buying them together I think is perfect so that baby gets something and so does momma. This comes with an eye mask, Burt's lip balm which is one of my fave balms, a packet of milk bath which is nice but maybe not amazing, baby bee washes (pretty much the only baby thing in my mind in ...read morethe packet), Baby Bee body lotion which I find a bit watery, a leg cream and Burt's radiance lotion which is really pretty. I'd also recommend this for a mother's day present because with everything in it you could do a mini spa day at home.

Too waxy.

This review is for the Burt's Bee's Baby Bee, Buttermilk Lotion, but the product by itself is not available for review on totalbeauty. When I first heard about this product, it sounded so good! I really wanted to like this product. I actually hunted this product down at a store not very near me just to find it. That's how excited I was to try it. Since (at the time) it was kinda hard to find, I bo...read moreught like 2-3 bottles. And, of course, I ended up not liking the product. So, had to muddle my way through using up all the bottles (didn't want to drive far yet again to return them). The ingredients are pretty good, all but the bees wax. Just way too waxy for me. Add it to the list of items that fit the description "if it sounds too good to be true, it is".

baby love

I bought this as a gift for my sister in law. She fell in love with it. the baby smells so good and he is so soft and cuddly.
Back
to top