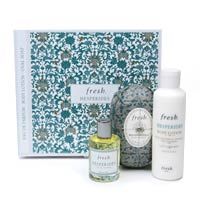 Too bad the scent disappears sooooo fast!! So Disappointed!

I received this gift set after smelling it at Sephora dropping hints to my hubby. I love the scent, but it does not last at all!! After using the soap (which smells great),the body lotion (which is hardly scented) and the eau de parfum spray, my husband did not even comment on the scent. I came downstairs about a 1/2 hour after using all of the products in the set and expected him to notice, bu...read moret had to ask him to sniff me and he said he could barely smell anything. He has a strong sense of smell and usually loves the fragrances I wear. I sprayed generously everywhere too! When I got to work about an hour later and asked my girlfriends (who love fragrances similar to my tastes) to sniff me and tell me what they thought and they didn't think I had anything on at all! Bummer! So, my bottom line is that it smells great to you immediatly when you use it, but it dies down extremely fast and nobody will be able to take a whiff of you and enjoy it, not even you. :-(

This is fresh

This is a great summer scent, very crisp and refreshing. The sizes of the products are great for travel

The closest you will get to the scent of real grapefruit

This truly smells like fresh grapefruit, and once you try it, you'll know what I mean. Every other grapefruit scent smells fake in comparison. The lotion is light but does a great job of moisturizing and the soap will last for ages. My only complaint is that the perfume doesn't last as long as I would like; you spritz it on, but by the end of the day you can't smell it anymore.
Back
to top