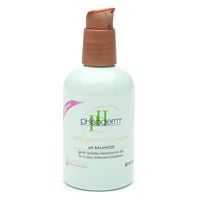 One of the greats

I have to say that anytime I have a breakout, I always reach for this cleanser. It's mild, non-drying, and really works at taking care of my occasional breakouts. I am in my 30's, and thankfully the breakouts from the younger years are very few and far between! I loved this cleanser then, and I still love it now. I tend to use the Phisoderm Daily Deep Cream Cleanser when my skin is in the clea...read morer. The only bad thing is that only one drug store where I live carries the Phisoderm line. It is such a staple in my bathroom that I can't imagine ever being without it. For an excellent acne medication that treats the breakouts AND treats your skill well, this is the perfect cleanser.

Amazing for oily, acne prone, sensitive skin!

I picked this up about six months ago on sale at Rite Aid and thought I'd give it a try. So far, it's the best moisturizer I could find for my combination oily/dry skin that's also very sensitive and acne prone. My only complaint is that it does not have SPF, but I'm not too concerned since the makeup I use does. I've been trying to find this in stores for the longest time now, and just found it o...read morenline for $4.49, so I'm thrilled. The 4oz bottle has literally lasted me 6 months, and that includes both day and night use. I would recommend this moisturizer over any brand name pricier version. It does an amazing job!

Great product, I'm hooked too!

As I mentioned in my reviews of the cleanser and toner in this same line, I have had great success in clearing my skin of those occasional (but ongoing) breakouts even though I'm a mature adult (over 55). I have found these three products to have saved my skin which has really helped with my self-esteem. It is hard to feel good about yourself when you are broken out. Concealers don't always help the problem either and I am so happy to have clear skin again. Thanks, Phisoderm.
Back
to top