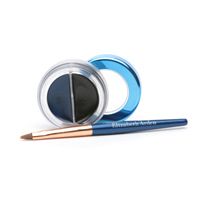 Elizabeth Arden Cool Blue Hot Bronze Gel Eyeliner/Eyeliner Gel
Great Eye Liner

This eyeliner is so easy to use, you can use it dry or you can get the brush damp and use it. The color goes on so easily and is very pretty. I have found that the line has a great staying power as well. I love it. I wish it were available in more colors.

Why did they discontinue this product?

I bought this eyeliner last year and loved it! It creates a really nice blue colour for your eyes. Its sort of a dramatic effect so I don't use it very often and therefore I'm not going to run out of it soon. I can't buy it again since its discontinued but I would if EA came out with different colours for another line, because it goes on smoothly and lasts a long time.
Back
to top