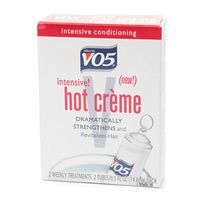 Alberto VO5 Intensive! Hot Creme, 2 tubes
As low as
Spa Treatment in Your Shower

This is a great drug store find! Its been along time for me since I have picked up anything from Alberto V05 so I got a coupon and thew it into the cart! My hair is Color Treated Dry Dull Splitting Ends So I grabbed one of the tubes and hopped in the shower! I was blown away...I felt the warmth and I'm not really sure how to describe it...but the feeling was similar to a treatment that I had ...read moreon my scalp when I had a full day of pampering at a SPA in CA! This is a nice treat for your thirsty tresses and it makes a great share with your BFF for an DIY spa treatment...

Great product.

This product does exactly what it claims. My hair is rejuvenated after using it.
Back
to top