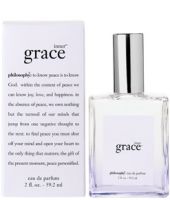 Love it!

It is just a very feminine and clean smelling perfume. Very girly and clean smelling. I always get compliments when I wear inner grace. It is one of my favorite ones to wear.

Too old.

I took the plunge and purchased the 2 oz. bottle of this, what a mistake. I am a young 34 yr old and found this frangrace smelling very old, it actually make me feel older. I absolutely love Pure and Amazing Grace but this one is a very strong NO GO. To me is just has note that scream "Retirement."

Beautiful and delightful

This is such a pretty fragrance. I love it! It smells clean and soft. It gives you a sense of peace and serenity.
Back
to top