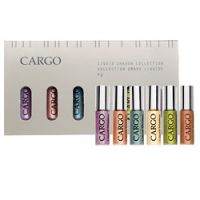 Perfect for Travel

These shadows are just to cool. I see mini lipglosses all the time but nothing for eyes. I love the travel size of this set. I stash these in my purse! The product itself is colorful and fun. Its good quality and some of the colors are super metallic! love!

Awful!

Some of the tubes went on cakey and very sheer. Once I used it like 10 times you couldn't scrape out anymore color because the color was stuck to the sides. I wish i would have returned it to get my money back. would never buy again

Beautiful, rich and easy to control color

A quick swipe/roll of the color is all you need for each eye. You may need to then take your finger and do a little blending but it is a snap to get beautiful, rich color very quickly. I love the rose/gold color from this line!
Back
to top