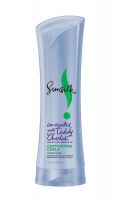 Do I have to use it with 24/7 creme? Because this conditioner is not so great

This conditioner gives my frizzy hair comparatively average results. Maybe I have to use their 24/7 creme to get the full De-Frizz effect. I only bought this one with their matching shampoo. I expected this conditioner to have the rich texture, but it is very light. My frizzy hair did not go away completely. Just like De-Frizz shampoo, I did not like the smell, which reminds me of chemical/old per...read morefume scent. I like their inexpensive price tags, so I am going to try other Sunsilk products.

I've Fallen In Love.

This really makes my hair less frizzy and more pretty! I love it. It's really smooth and it feels great in my hair. I love the description of the product and the directions on the back of the bottle! They are really funny and cute. I think that you can't go wrong with Sunsilk!

Not even worth the clearance price at the local drugstore

It was on clearance, so I thought what do I have to lose? I heard good things about Sunsilk, but this was a letdown. The only thing I liked about the conditioner was the clean smell. I've tried it with a variety of different curly hair styling products to see if it can be redeemed, but each time my hair becomes a dry, frizzy mess after using this conditioner. There are far better conditioners out there. This one's a no.
Back
to top