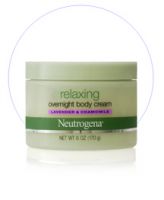 Editor's Rating & Review
Any night cream that claims "no greasy after-feel" pings our skept-o-meter, but this one comes close. It's lightweight and absorbs quickly (no oily spots on your favorite sheets!) and it moisturizes as well as, or better than, pricier creams. But here's where it loses: the scent. Lavender and chamomile are supposed to be relaxing fragrances, but some might find it overpowering and a floral assault on the senses. If you're aroma-sensitive, stay away.
Reviewed by Kristen on 09/25/2007

How we review products
Review subject

I was (suprise) happy with this product. I'd say it's pretty close to what the product is advertised as. I would recommend, and purchase again.

Not that great

I use lotion every night and this doesn't seem to be any better than what I regularly use to have nice skin in the morning.

Relaxing and Moisturizing

I love this body cream because it helps give moisture to my skin and keeps me from feeling dry. This formula is so easy to apply and is quickly absorbed into the skin so it makes your skin smoothe without feeling greasy. This is a great cream to use to pamper yourself and relax, and hydrates your skin all over.
Back
to top