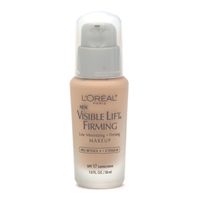 LOVE IT!!!

I blend Colors 145 and 146 together and it looks beautiful on my skin. I always gets compliments on how my skin looks like porcelain - but without this makeup, it definitely isn't. I've tried so many foundations, from Estee Lauder, LaMer, Laura Mercier, Chanel...I could go on and on, but I read about this foundation and thought, what the heck, I'll try it. It is so inexpensive. What a little t...read morereasure. I've read other comments and can't understand the problem with clumpiness or drying too quickly on the face. I use a good serum, followed by moisturizer, then sunscreen, a primer, then this foundation. PERFECT!!!!

visible lift -

I wanted to try this - now I'm not so sure - did anyone try applying with a foundation brush? That is how I apply my foundation

I hated this

I didn't start wearing foundation until recently and tried this at the drugstore. It is awful. A total waste of money. It comes out thick and clumpy and once I have it on my face, I can't seem to blend it in without rubbing it all off. It even emphasizes those fine hairs on the side of my jaw.