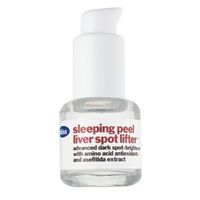 Bliss Sleeping Peel Liver Spot Lifter
As low as
not worth the $$$

After about 2 months one of the spots was gone. I have 2 more little ones that just won't go away.

Not so good.

This product didn't do anything for the discolorations on my face or neck. It did however lighten my dark spots from eczema on my foot. My bottle also started to run from just sitting in the medicine cabinet. From my experience, it seems this product works better in new hyperpigmentation vs. old hyperpigmentation. The older and the bigger it is the less effective it is.

Save Your Money

I bought this to help with post-acne scars and it did absolutely nothing. I used it regularly for a long time and saw no difference whatsoever. Plus, the serum is really, really runny and the top of the bottle broke even though it was just sitting in my medicine cabinet. I took this back to Sephora and got something way better.