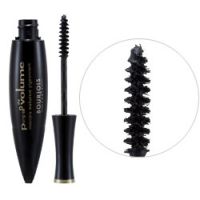 hmmm...ok

Well, the mascara says : "A truly uplifting experience, rain or shine. This silicone rich formula pumps up your lashes in any weather, instantly volumizing and uplifting. While a combination of microbeads with carnuba wax act as a natural raincoat for your lashes. The double-fiber brush thickens right to the tips for fuller, darker looking lashes that never get left out in the rain." I bought ...read morethe purple one, and I have to say I dont agree with all those features that makes it such a perfect product. Lets start positively, it really is waterproof, I mean you can swim, take a bath and it will stay there. It is in fact, true. You can literally go swimming with this mascara and it will hold up. So that's great! I am also excited with the skinny brush! I didn't receive THAT much volume from this mascara. I mean, it was just okay. What really gave me MORE volume was the primer that I used. I tried using it with other mascaras and it was still just, "eh". I imagine this mascara would be great for those who already have long and full lashes and just want to take them a step up. Also, I know that it may sound funny to some of you out there, but Ive literally tried more than twenty different mascaras and I tell you that something I really disliked about this one was the smell! It was really heavy, you can smell the chemicals and it is so intense that it gives the intention your eyelashes will bend from its heavy texture! I personally love light texture products, so it was just not my style. Would I purchase again? No, I don't think so. But I'm open to trying more mascaras from Bourjois Cosmetics, since Ive heard good words about other products of this company.

pump up the smudge

someone recommended this to me, but I am not a fan. I have to admit that things I've bought for half the price had been better. It smudged on me, but it does remove easily...too bad it was while i was wearing it

Mediocre Mascara

This mascara wasn't anything special.
Back
to top