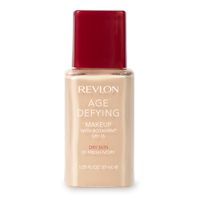 really good foundation

I really like this foundation. It goes on smooth and last most of the day. Color blends well and doesn't settle in lines. good value.

It's about time

I'm 46 and finally had to face the fact that my skin is too dry and flaky to use my trusted Color Stay foundation anymore. Even though it is for dry skin, I still moisturize first, because even my nose is dry and flaky now. This foundation goes on smooth, gives about light to medium coverage, and does not emphasize my dry skin. It does settle into my fine lines though, but I've never found a fo...read moreundation that won't do that! So I avoid that area, and use an anti-wrinkle serum (Neutrogena) to plump up those lines.

Smooth, good for dryness

I am actually only 24 but I have wrinkles in my forehead that never seem to go away no matter how much I moisturize, and undereye creases so I thought I would try this since it was on clearance at CVS. It was very smooth and felt and looked good but it was a little too wet and dewey on me. I might try the version for normal skin because I did like how it smoothed me out. Light to medium buildable coverage.