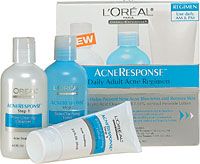 good

I recommend anyone try this product with mild acne, It doesn't really work on severe acne. It works well on controlling oil and refining pores.

Cheaper than Proactive!

I really love this daily acne system! The cleanser is awesome to lather in the shower with, but only use a slight dab, a little goes a long way with this stuff! If I use too much it dries out my skin, so a tiny amount is perfect and it lasts longer! The 3-step process is very similar to Proactive, which can cost so much and I've gotten the same results with this product as with Proactive products!

Exclusively from the editors at Total Beauty

Get the Buying Guide to see these top-rated products!

Get it now »

Did its job, but dried me out!

This product really did clear up my face. I am 27 years old and still have acne the same as when I was in high school. The only problem with it was that it made my face very dry and even with lotion it was still dry and red (from the dryness). If you don't have sensitive skin like I do then this product would probably serve you well.
Back
to top