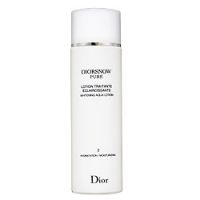 not too bad at all!

but pricey..are you worth it? :)

HEAVEN

I love love love this lotion toner. It smells fabulous, goes on nicely, isn't sticky, and makes my skin feel amazing. I have alot of hyperpigmentation on my face and this followed by the DiorSnow Serum, has lightened them by about 2 or 3 shades in one month of use. Awesome. The only thing I don't like is, obviously, the price. The bottle does last awhile, however, so if you have the money to spend, this is a GREAT product.

Awesome toner lotion!!

I've been using this for a year now and getting another bottle, it is just awesome!! I love the fresh, light scent of this product, I can't get enough of it! It softens your skin right away leaving it hydrated and supple. My skin feels very soft and fresh each time I use it. It is very gentle, does not sting or smell like alcohol, I use it all over my face and neck, even around my eyes ( however, ...read moreit says to not use in the eye area), I never felt irritated like I did with some other less expensive brands (I tried Keihl's toner that was recommended by a beauty book but got teary every time I used it and the drugstore brands made my skin felt tingle in a bad way and very uncomfortable). I bought the whole line of DiorSnow, and this toner lotion is one of my favorites along side with the foam facial wash which i will review later. The bottle is HUGE, so you are getting a lot, very well worth the money. I use it generously splashing my face and neck two times a day and it lasts me almost 8 months and I'm loving every aspect of it!