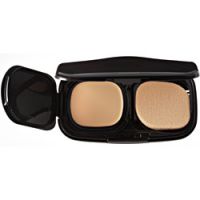 Great Makeup

I really love this foundation because it goes on smooth and doesn't feel heavy or cakey. It evens out my skintone and comes in great shades for everyone that look natural. I like using this for coverage and it protects with SPF, so it is great for wearing all day.

Please close lids tightly!

Just need to use a little, and wash your sponge weekly. I do like the water cool feel of this foundation. Is refillable so save your case, the old gold case still fits the new refills! Compact has a HUGE mirror! Please make sure theat the inside lid clicks when closed or the foundation will dry out!

Great Daily Foundation; Goes on Light

I wear this foundation every day. As opposed to liquid foundation, I find this compact is easy to use on dryer, more sensitive skin like mine. The only downside is is that it does not function too well as a concealer.