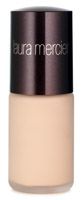 Editor's Rating & Review
While this foundation isn't hydrating enough to skip daily moisturizer, you'll be impressed by its blendability and the fact that you can easily avoid the dreaded "old lady foundation line." It does provide sheer to medium coverage for redness, but without SPF it doesn't protect from future sun damage. Although the cap won't stay put, the pump allows for great dispensing control. Shades span a variety of skin tones, leaving a slightly dewy (not cakey) natural finish.
Reviewed by the Total Beauty editorial team on 09/25/2007

How we review products
Good enouth

LM is noted for her foundations and colors. It does come in good colors and blends very well. Although it is moisturizing you will have to put on a moisturizer under it but then again you better put on a sunscreen as this is lacking in it. The other thing is that it is in a pump which is hard to control the amount that comes out. I do like it but not sure if I would buy it again.

I wanted to like this foundation. Really.

I have read so many good things about this foundation but I couldn't find the right shade for my light to medium skin.

Great shine coverage and super light

I have yet to find a better foundation! I takes away all the shine and has a sort of silky texture, no caking whatsoever. It is really blend able, even if it is off a shade, so you can feel safe to order it online without tring it out. I would stay away from going a shade too dark though. The con- does not function well with sweat, it WILL bead a little bit, so make sure you are cool when applying it initially or it won't set properly.