Lady Gaga Reveals Cellulite at the Brit Awards
Posted on February 17, 2010, 8:43 AM
Lady Gaga loves crazy outfits, like the one pictured here, which she donned at the Grammys, but whether the songstress opts to wear a pleather jumpsuit or to become a miniature model of the galaxy, she's usually at least covered up.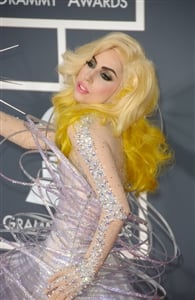 Lady Gaga shows off cellulite in revealing lace suit.
But, the singer bared her body in a barely-there lace body suit at the Brit Awards on Tuesday. She also donned a sky-high wig and a lace veil.
Though we've come to accept that Gaga will always be outdoing herself with newer and edgier pieces, we think that this item went a little too far. A net mask is a fashion statement -- showing an international audience your cellulite is just a bad idea!
However, the star did pay a moving tribute to the late fashion designer Alexander McQueen.
Gaga, who was a fan of the innovative artist, thanked him in her acceptance speech, saying, "Thank you to Lee McQueen," when she picked the first of six awards that night, which included best international female artist, best international breakthrough act and best international album for "The Fame."