Miley Cyrus Gets a New Tattoo on Her Body
Posted on June 17, 2010, 3:54 PM
17-year-old singer/actress Miley Cyrus has been spotted with a new tattoo -- the word "LOVE" inscribed on the inside (the anti-helix) of her right ear. Some skin care tips on caring for a tattoo.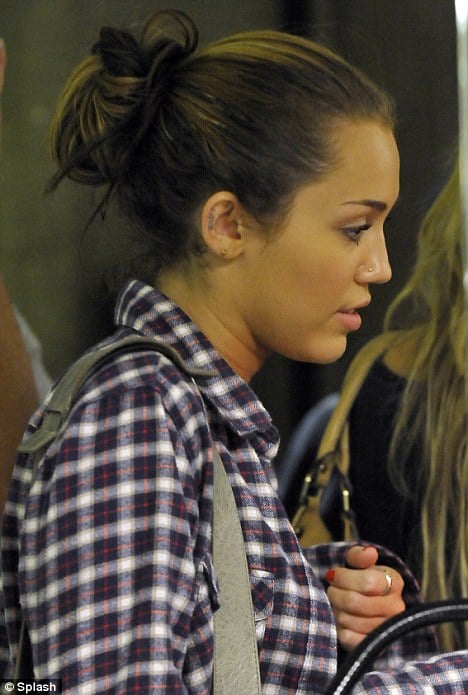 Miley Cyrus Gets a New Tattoo on Her Body
While the
controversy over Perez Hilton's questionable post of a racy photo
of her rages on, 17-year-old singer/actress/tabloid staple, Miley Cyrus reveals her newest tattoo – the word "LOVE" inscribed on the inside of her right ear. The "Hannah Montana" star already has the words "Just Breathe" inked underneath her right breast. Daddy's little "Smiley" seems to be growing up at breakneck speed.
Many people get tattoos when they're young and often regret them later on in life. If you do decide to get inked, proper
body care
will make your tattoo stand the test of time, as they have a tendency to fade if you don't treat them properly. Make sure to always cover your tattoo with a sun block that contains a high SPF (like Neutrogena Ultra Sheer Dry Touch SPF 100) when it is exposed to the sun, just like you would with any other body part. This will prevent the color from fading over time and preserve the true, saturated color of the ink. If your tattoo is in a place similar to Cyrus' that's not easy to apply a lotion, try a sun block stick (like Clinique Sun Targeted Protection Stick SPF 45), which will allow you to protect tattoos that lie in those hard-to-get places, like your inner ear.
It's rumored that the "can't be tamed" singer got the tattoo for her 20-year-old Australian actor beau, Liam Hemsworth. The star was caught by the paparazzi leaving Los Angeles' LAX airport on her way to New York to prep for a "Good Morning America" performance on June 18th.
"The last thing I was expecting to do was fall in love," Cyrus has said of her relationship with Hemsworth. "But I guess God was like, 'Girl, here is this amazing guy.' Liam has become my best friend in the whole wide world. I love him." The singer and actress also recently gave an interview where she stated that she's not trying to be "slutty" with her newest single, "Can't Be Tamed," which sparked much controversy for her revealing outfits and provocative dance moves. "What I'm trying to do is make a point with my record and look consistent, in the way my record sounds and the way I dress." Cyrus' album, also titled "Can't Be Tamed," drops next week.
What do you think of Miley's new "LOVE" tattoo? Trendy or trashy?