Jennifer Aniston: Clear skin and slim physique thanks to baby food?
Posted on May 10, 2010, 1:06 PM
Many celebrities will try anything to lose weight - some adopt raw food diets while others subsist on cayenne pepper and lemon juice. But Jennifer Aniston may have taken the cake when it comes to strange fasts. The beautiful actress' healthy skin and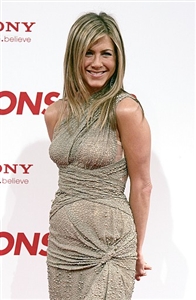 Jennifer Aniston's clear skin and slim body the result of a baby food diet?
The latest news on the popular starlet is that she has maintained her slim physique by noshing on baby food during the day, and eating a regular adult meal at night.
So, does she just load up a grocery cart full of the stuff? Not exactly. Aniston's strange diet is under the supervision of Madonna's ex-trainer, Tracy Anderson. The former "Friend," pictured here on the red carpet, eats pureed fruit smoothies, oatmeal and soups, according to "OK" magazine.
The news source reports that the already skinny lady has lost about 7 pounds.
What do you think – is baby food the next big diet craze, or is this just plain odd?