Get Lady Gaga's Big Doe Eyes with Makeup Tips NOT Dangerous Contacts
Posted on July 6, 2010, 1:32 PM
Beauty practices are getting more risque with blindness becoming one possible side effect!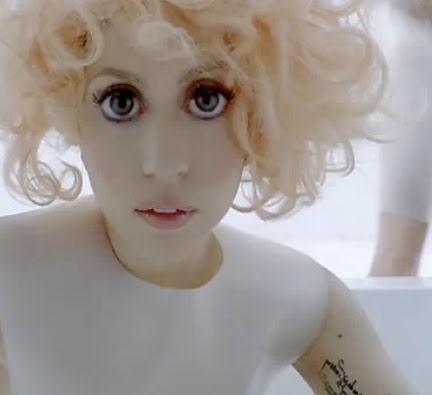 Photo Courtesy of: Lady Gaga's "Bad Romance" Music Video
We are all enthralled by Lady Gaga, whether she's flicking off Met fans or tripping over her 5-inch platforms, but one fashion craze of hers that's catching all eyes are, well, her eyes -- literally. In her
"Bad Romance" music video
, Gaga's eyes are digitally altered to look bigger than humanly possible. The millions of girls that are following this rising trend obviously can't digitally enhance their eyes, so instead they are turning to circle contact lenses. Circle lenses are color contacts that are larger than regular ones and thus extend beyond the iris of the eye into the whites making the eye look bigger. Michelle Phan, YouTube makeup artist sensation, has a video with over 9.5 million hits that shows viewers how to copy Gaga's borderline-freaky
makeup
look including a step-by-step
makeup tutorial
on how to wear circle lenses. In a recent interview, Dr. Assumpta Madu of the Montefiore Medical Center with Good Morning America found that in rare cases, the contact lens can scratch the cornea and lead to an infection, which can cause blindness. Since the lenses are found in all shades and sizes, and can be easily grabbed online for less than $20 a pop, it's not a surprise they aren't FDA approved and thus illegal to buy in the US.
The trend of large doe-like eyes cannot be completely contributed to Lady Gaga seeing that large eyes have been an anime stigma since the beginning of Japanese pop culture. And having big eyes has always been a beauty obsession, especially among the Asian countries with the double-eyelid surgery becoming as common as getting your nails done.
But I am here to tell you that wanting larger-looking eyes doesn't mean that you have to get plastic surgery or risk losing your eyesight. There is an unthreatening way to make your eyes look bigger – with makeup tricks of course! Our video doesn't endorse illegally sold contacts, but shows
makeup tips
to make your eyes look bigger with makeup,
check it here.
You can also use false eyelashes to amp up the drama (check out this
video tutorial
on how to apply false lashes like a pro). And for all the Asian women out there, embrace your features and find the
best makeup looks for Asian beauty
. The lesson here: Stay away from things that can cause blindness. Circle lens = bad, makeup = good.
By Sharon Yi