Jennifer Aniston Cuts Inches Off Her Long Hair
Posted on February 22, 2011, 11:54 AM
Remember when Rachel Green had a bob? It's deja vu with the star's new hairstyle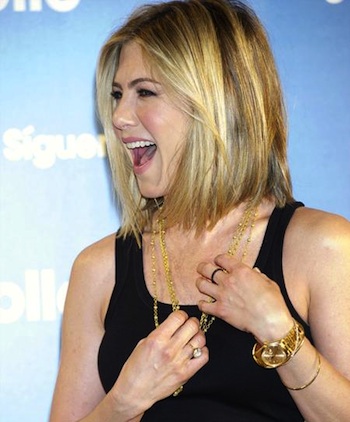 Photo: Coco Perez
Just days after her 42 birthday (and a relaxing stay at the ritzy Pink Sands hotel on Harbour Island in the Bahamas), Jennifer Aniston debuted a new, shorter
hairstyle
in Spain.
Showing up for a photo call for her new movie "Just Go WIth It" in Madrid on Tuesday, Aniston surprised photographers with her new long bob, which is more than vaguely reminiscent of the style she wore during the middle years of "Friends."
Just a few weeks ago, we had
suggested a banged bob
for the famous friend -- looks like she heeded at least half the advice!
What do you think of Jennifer's new hairstyle? And, are you surprised she cut off her signature hair?
--Audrey Fine