featured jennifer aniston hair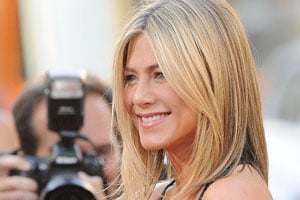 Ever since she won our hearts as Rachel in "Friends," Jennifer Aniston has been bowling us over with her girl-next-door-all-grown-up style and her fantastic hair. Her signature face-framing, long layers are almost an industry joke as they're asked for by clients so often. But all kidding aside, the look is hard to beat on anyone. It's easy to love a trendsetter who brought us a haircut that looks good on any face-shape and can be styled into sleek and sexy or tousled and wild. She also has a tendency to pick some of the most flattering hair colors of all time. Between the layers and the soft, golden highlights, it's little wonder why fans and the general public go nuts for Jennifer Aniston's hair.

If you want to recreate Jennifer Aniston's look, you've come to the right place. Total Beauty has all of the information you need to get picture perfect Jennifer Aniston hair. Our expert stylists have put together videos and step-by-step instructions so you can get the Jennifer Aniston red carpet look any day of the week. You can also visit Total Beauty's other beauty guides so that you can get the full Jennifer Aniston look, from hairstyle to makeup.