The VIP (Very Impressive Product) Pick of the Week #44

Posted 03/23/12 at 12:11PM by Total Beauty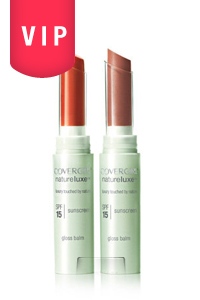 The Product:
CoverGirl NatureLuxe Gloss Balm
The Price:
$5.99
The Company Spiel:
"Get the sheer color and shine of a gloss with the soft, lightweight feel of SPF 15 balm. Fortified with mango and shea butter, this feel-good formula leaves your lips feeling decadent and delicious."
The Real Deal:
I was a lip gloss girl for years, but lately they all seem too ... glossy, overly shiny, and way too sticky. So I started searching for an alternative with a hint of color and gleam -- but without the glue-like consistency that attracts every strand of my hair whenever a breeze blows. This "gloss balm" is the perfect compromise -- it really does reside in that gray area between lip gloss and lip balm. While there are 16 colors available, even the boldest-looking ones fall into the "your lips but better" sweet spot. I have a substantial collection of lip products on my desk, but I keep reaching for this one -- and I've made a serious dent!
The Upshot:
Not only is it sheer, shiny, moisturizing, and available in the prettiest colors, it also has SPF 15. I'm already stocking up on the bright coral (called Anemone) for summer.

Our Expert Guides