The VIP (Very Impressive Product) Pick of the Week #42

Posted 02/23/12 at 03:45PM by Sarah Carrillo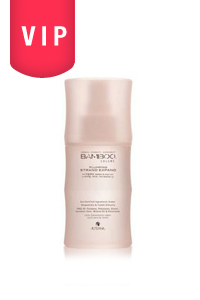 The Product:
Alterna Bamboo Volume Plumping Strand Expand
The Price:
$22
The Company Spiel:
This "lightweight lotion instantly pumps up every strand for noticeably fuller, stronger, full-bodied hair -- root to tip."
The Real Deal:
As the resident flat-hair sufferer in the office, anything with the word "volume" in it gets immediately handed over to me. So it's safe to say I've tried more than my fair share of shampoos, sprays, and mousses -- and for the most part, I've been seriously disappointed. That is, until this landed on my desk.
Rather than a sticky spray or crunchy mousse, it's a creamy lotion. And while I was hesitant to apply something so heavy looking to my limp roots, I was quite impressed with the results. Think soft hair that miraculously felt thicker and had more bounce than usual.
The Upshot:
It's wonderful to put something on my hair that gives it volume without also making it feel dry or crunchy. I think my search for a volumizer may finally be over.
What about you -- have you found your own miracle hair product yet?

Our Expert Guides