The VIP (Very Impressive Product) Pick of the Week #27

Posted 09/16/11 at 12:31PM by Audrey Fine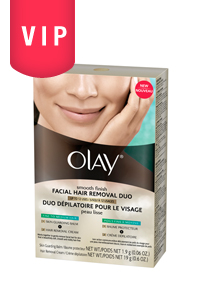 The Product
:
Olay Smooth Finish Facial Hair Removal Duo
The Price
: $29
The Company Spiel
: "[It's] a specially formulated two-step system that gently yet effectively removes unwanted facial hair. Common facial hair removal methods can leave visible telltale signs such as irritation and redness that give away women's 'beauty secret.' Now, Olay has a gentle way to get beautifully smooth, visibly hair-free skin."
The Real Deal
: Facial hair. Who doesn't love talking about that? OK, I have some and I hate going to get it removed so when I read about this kit, I thought it would be the perfect alternative for my sensitive skin. Guess what? It is. This product doesn't smell, doesn't irritate and is unique in that it's the only two-step hair removal system on the market.
There's a "prep" step wherein you apply a barrier of sorts to the skin to protect it from the high PH levels in the depilatory. The prep keeps the strong hair removal ingredients from ever directly touching your skin so it doesn't get irritated. Genius.
The Upshot
: Will I continue to use Olay Smooth Finish? In a word, heck yeah. It's too awesome not to. Try it. You'll like, nay, LOVE, it.
Dubious? I'm not the only one here who's gaga for this product. Read what our Total Look video host, Rebekah George
has to say about it
.

Our Expert Guides