The VIP (Very Impressive Product) Pick of the Week #10

Posted 04/08/11 at 01:45PM by Audrey Fine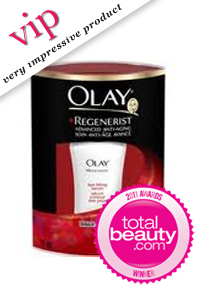 The Product
:
Olay Regenerist Eye Lifting Serum
The Price
: $18.99
The Promise
: "Help firm and lift your look and moisturize the entire eye are for a smoother, brighter appearance."
The Real Deal
: I couldn't have written a more succinct statement about his serum. It
does
firm and lift and
does
make my eye look more smooth and bright. And, seems I'm not alone in loving this product. TotalBeauty.com readers picked it as their favorite eye cream in our 2011
Beauty Awards
, so I can't be too off base.
Plus
, even Amanda Peet says she
loves Olay products
, so, really, I'm
not
alone with this assessment.
The Upshot
: You know when you glom on to a product and immediately begin to panic that they may stop making it? That's how I feel about this Regenerist Eye Lifting Serum. I have to think, however, that it's got to be selling well enough to keep it in production. It
is
Olay after all.
Come to think of it, there's
another
Olay product that I can't get enough of,
Olay Professional Pro-X Wrinkle Smoothing Cream
, $49. It's part of my
treatment plan for banishing adult acne once and for all
and I just love it as a moisturizer.
What's your experience with Olay stuff been? Oh, and which product (of any brand) would you like to nominate for VIP status?

Our Expert Guides