The Trend I May Try for the Holidays

Posted 11/23/10 at 02:45PM by Audrey Fine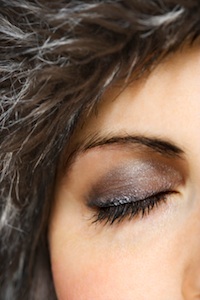 Now, don't hold me to it, but I may just be tempted to break one of my cardinal beauty rules next month. I'm talking
grown-up glitter
here, people.
Usually I'm the first to shudder at the thought of anyone over the age of, say nine, even saying the word glitter, but the more I see of this new trend, the more I find myself tempted.
I don't know whether it's because I'm fascinated by Natalie Portman's eye makeup in "The Swan" (or by the circus that "Burlesque" appears to be) or because I'm having a mid-life crisis. For whatever reason, I can't wait to swipe some of this cool
Nouba Rainbow Eyeliner
, $18 across my lids come December 11th eve -- the night of my very first fete of the season.
The sparkling shade I plant to wear is a nice sedate color -- unlike some of the other brands whose shades of purple and green really
do
scream way too young for me. And, of course, I'm not going to glop the stuff on, I'm just going to draw a thin line very close to my upper lash line and sparkle the night away.
Do you think I'm nuts? Would you wear glitter or is it best reserved for the Tooth Fairy crowd?
Not game for the glitter? How about trying a
winged eyeliner look
a la Christina Hendricks?

Our Expert Guides