My Picks for the Best Self-Tanners

Posted 05/04/11 at 12:20PM by Rebekah George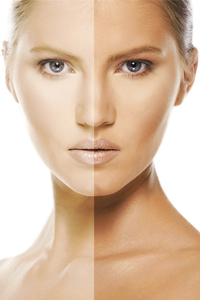 No matter where you live, it's
finally
warm enough to show off some skin. But before you even think about lying in the sun to get a little color, just think about the damage -- those little lines, wrinkles, and brown spots -- that "real tanning" will cause. As far as I'm concerned, the only good glow is a faux glow and, with that, here are my personal favorites that I use when I want to get a glow going.
Dr. Dennis Gross Skincare Alpha Beta Glow Pad
, $32
Why I like them:
I'm calling this one of summer 2011's best beauty products. Why? Because it's completely revolutionary -- it's a single-step self-tanning towelette that
also
contains alpha & beta hydroxy acids to exfoliate skin so you get smoother, more even color.
Bonus:
Contains active vitamin D to help your body soak in the nutrient most commonly associated with sun exposure.
Xen Tan E! Live From the Red Carpet Perfect Blend Self-Tanner
, $43
Why I like it:
This product gives you a red carpet-ready faux tan a la Guiliana Rancic. It's a dual-chambered self-tanner and bronzer that imparts both an instant glow
and
a self-tan. Plus, because it has olive undertones, it looks natural -- genius!
St. Tropez Wash-Off Instant Glow Body
, $18
Why I like it:
Know those times when you want a glow for a date, but want your natural skin tone for a business meeting the next morning? This is the perfect fit. It's sort of like makeup that you rub on like a moisturizer for an instant glowy look. Then it washes off completely once you shower. The best part, (though I'm not entirely sure how it works) is that it somehow manages not to rub off on your clothes!
Olay Total Effects Touch of Sun
, $19
Why I like it:
This is like a moisturizer for summer. It hydrates your skin and gives you a little touch of color every time you use it. Plus, it has anti-aging benefits -- always a bonus.
Now that you know my insider secrets for securing the best faux tan around, I expect to see some pretty (fake) tan skin around here. Ooh, and while we're at it, the time's also ripe for stocking up on my favorite
beauty pad and towelette must-haves
.

Our Expert Guides