My Never-Ending Quest for the Perfect "Gossip Girl" Blush

Posted 12/16/10 at 09:16PM by Audrey Fine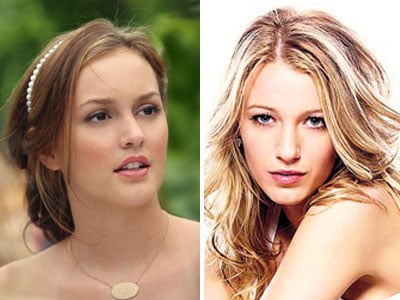 While I'm almost certainly not the show's target demo, a serious case of arrested development makes me a big "Gossip Girl" fan nonetheless. And while I
do
appreciate the sordid storylines, I have to admit that it's more about the clothes, hair and makeup for me. Specifically Blair and Serena's beautiful blush. There's something about both the shades and the technique that makeup artist Amy Tagliamonti employs (yes, I actually did research to figure out who the artist behind the scenes is) that render both stars simply stunning. I've worked a long time at trying to emulate the look and have gotten pretty darn close (if I do say so myself). Now if only there was a way to copy their bone structures and/or complexions...
Want to match their shades too? Here are the blushes you'll need to copy their glow:
Serena van der Wootsen (Blake Lively):
Blake, of course, has a natural glow and great skin, but Tagliamonti enhances it with
CARGO blush in Catalina
, $24. As she told "Allure" magazine, "It's a cool-toned pink, but it's more of a doll-like pink than fuchsia, so I can use it on any skin tone. A soft sweep of color is great on someone with fair skin, or you can add a few more layers on olive-y skin. I've tried a lot of other blush shades, but I always end up coming back to this one." Seriously. Why mess with perfection?
Blair Waldorf (Leighton Meester):
Leighton's porcelain complexion is typically played up with a slight pop of color on her cheeks that makes her look naturally flushed. Both
Tinte Shimmering Face Pearls in Nikki Pink
, $15 and
Smashbox Blush in Aurora
, $24 work well with her skin tone as does
Benefit Posietint
, $28 -- a petal-pink liquid stain that stays put longer than some powder blushes.
Of course, you can always suss out your own favorite shades and brands too. There are a ton of new ones hitting the market since flushed cheeks are a trend that will only get hotter as we move into spring. Ones to try: Tarte Amazonian Clay Blush and Urban Decay Indecent Glide On Cheek Tint. Both hit shelves in February.
Application method:
Gently swirl a large fluffy brush into the blush and apply it to the tops of your cheekbones in a circular motion -- sparingly. You want that "flushed", "it's chilly out" look so less is definitely more.
There you have it! A subtle pop of color that will work wonders to add some much-needed life back in to your dull winter complexion.
Want to go for a more vibrant look? Try one of
this season's hottest trends
.

Our Expert Guides