Nail Trends to Get into Now [SLIDESHOW]

Posted 01/12/12 at 08:44AM by Charli Schuler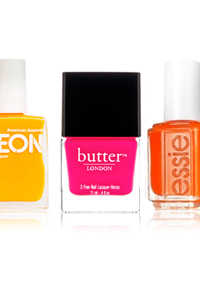 Listen up all you non-"nail people" -- all of you crackled, decaled, intricate design- resisting holdouts --
now's
the time to polish up your act. The shades and creations I saw on the spring 2012 runways will miraculously transform your nails into your new favorite accessory -- even if you keep everything else quiet and reserved. Repeat after me: you do
not
have to go all Nicki Minaj to have awesome nails this season. There's truly something beautiful and creative for everyone.
Before we get to the big reveal, I have a confession to make: Sure, I'm a beauty pro and all of that but while some of
you
might know your way around a bottlebrush and a toothpick, I'm totally inept in the art of at-home manicuring. So when it comes to executing these beautiful trends on myself, I'll be using advice from a pro -- green celebrity manicurist Jenna Hipp. (She does practically every "It" girl in Hollywood's nails, from Anna Paquin to Zoe Saldana.) Check out my favorite trends, each with their own little "Hipp tip" to help you nail the look.
See spring's hottest nail trends now by clicking through the SLIDESHOW.

Our Expert Guides