Which Cheapie Brands Do You Think Work As Well As (Or Better than) Their High-End Counterparts? Here's My List Of Drugstore Faves

Posted 08/09/10 at 06:22PM by Total Beauty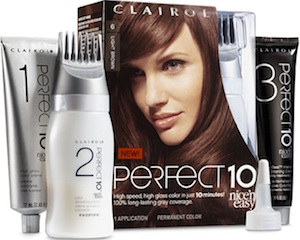 The other day I bared my soul and copped to the fact that there are
some products that I spend a lot of money on
. And, in so doing, I may have scandalized some of you, but I'm here to redeem myself by sharing some of the
reasonably priced
treasures I keep in my beauty arsenal alongside their well-heeled counterparts.
As I pointed out before, what's deemed splurge-worthy to one woman may be perceived as cuckoo by the next and vice versa, so this list may not tickle your fancy, but, hey, I'm trying, so work with me.
No. 1:
Clairol Nice 'n Easy Perfect 10, 11.99
First off, since I stopped bleaching the bejeezus out of my very brown hair and decided to embrace the dark side for a while, I've been coloring my hair at home. Blonde highlights are tricky to pull off on your own and I was spending a small fortune (not to mention innumerable hours) getting them done every six weeks. No more. Now I enrich my cocoa color (and cover some errant grays) with box color from the drugstore. And, while there's no shortage of brands to try, I got lucky off the bat by heeding a friend's advice and heading straight for Perfect 10. Not only do I love, love,
love
my shade (Latte Whirl), but it only takes TEN minutes! Plus, this stuff smells great and, at roughly $12 a pop, I'm saving big bucks. Time
and
money saver? Definitely a winning combo in my book.
No. 2:
Herbal Essences Hydralicious Reconditioning Conditioner, $6.96
Next, I'm going to let you in on my latest, greatest find. My 8-year-old daughter has beautiful long -- as in never been cut, only trimmed -- blonde hair. It's sort of her trademark and she "never wants to cut it -- ever!" So that means that, especially in summer, lucky mom gets to contend with all the snarls that come with swimming in the ocean, etc. I can't even tell you how many greenbacks I've spent on conditioners over the years. Name a high-end brand, we've tried it. Then, we went on a trip and forgot conditioner and I was forced to snatch something up from a very limited selection at a grocery store and I went with this Herbal Essences conditioner and, let me tell you that when it comes to detangling and smoothing hair, this stuff blows
every other product I've ever tried
way out of the water. It is awesome.
No. 3:
CoverGirl Cheekers Bronzer, $4.50
Another great find. I used to spend upwards of 60 bucks on
Guerlain's Terracotta Bronzing Powder, $62
, but then I happened on Cheekers, gave it a whirl and it's been my go-to blush ever since. In addition to being an incredible bargain, it's also a nice light shade so you don't end up looking like you fell into a vat of Indian Earth (remember that stuff from the 80s?). It stays put and is small enough to throw into your bag -- plus it comes with a super-soft brush that actually gets the job done.
No. 4:
Olay Professional Pro-X Wrinkle Smoothing Cream, $42
When it comes to combating pesky wrinkles and icky age spots, this is my weapon of choice. I use it at night (the
La Prairie Skin Caviar Luxe Cream
I talked about the other day is my day cream) and, it really makes my skin feel firmer, keeps my pores small (ish), and has improved the overall tone of my entire face -- no small feat since I used to
bake
it in the sun on a regular basis. Oh, and for helping to combat those annoying lines above my lips, I give two thumbs way up to the
Olay Regenerist Anti Aging Lip Treatment, $19.99
, it absorbs quickly and I've really seen those "straw sipping/whistling" lines diminish. Love that.
Ok, how'd I do? We back on speaking terms? Hope so, 'cause I'm going to need your opinion on which pixie cut I should get. That's right, I'm going for it. But, that's a story for another day ...

Our Expert Guides