The Celebrity Hairstyle I'm Loving This Week: Jessica Alba's Tousled Waves

Posted 08/26/10 at 09:07PM by Total Beauty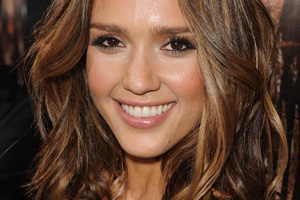 I'll let the tabloids debate whether the zigzagged Balmain dress Jessica Alba wore to the Miami premiere of her (and Lindsay Lohan's) new movie, "Machete," was a prudent choice and will instead focus on the undeniable -- she is just too dang pretty. Oh, and it was a good thing that, with all that zigging and zagging going on, she kept her hair and makeup low key.
And I have to say; I'm loving the hair. Tousled, beachy waves are not the most cutting edge style in the world, but they work so well here with her slightly dramatic eye makeup and neutral glossy lip.
And, while her perfectly imperfect hair
looks
like it'd be a challenge to do yourself, it's really not. After years of trying to replicate a similar style, here are four (pretty quick) tips I can pass along with confidence:
Tip 1:
When trying to get sexy waves, it's all about texture. Apply a sizeable amount of mousse (I love
Sebastian Professional Whipped Creme, $16.99
) to towel-dried hair.
Tip 2:
If you want a
really
easy fix, French braid your hair when it's damp and sleep on it. When you wake up, you'll have the perfect amount of tousle that you'll just need to fingercomb a bit.
Tip 3:
Can't wait until morning? Blow dry hair using a medium-large brush and then roll 3-inch wide sections around a curling iron. Flip your head over and use your fingertips to break up the curls ever so slightly -- don't worry, they'll loosen naturally after about 10 minutes -- then spritz with a fine layer of hairspray or, even better,
Bumble and bumble Surf Spray, $22
, which will add even more texture without the "crunch."
Tip 4:
Don't futz
! One of the most important things about this style is that you need to keep your hands off of it once you're finished styling -- the more you play and tousle it, the flatter, frizzier and more un-beachy it becomes.
(See other secrets to sexy, beach hair by getting scoop on what the
Victoria's Secret models do to get their fabulous hairstyles
.)

Our Expert Guides