3 Things That are Giving My Smile Something to Grin About

Posted 04/12/11 at 03:23PM by Rebekah George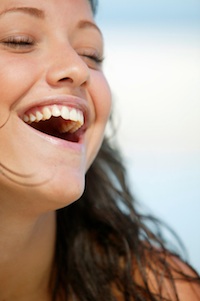 Quick, fill in the blank: You're never fully dressed without a ... OK, you got it. And, while a smile may complete your ensemble, maintaining a pretty, healthy-looking one is a lot of work. Especially if, like me, you weren't entirely blessed in the teeth department. Happily, there are loads of ways you can improve your smile. In fact, here are three things I'm doing to make mine the best it can be:
Braces
: I never had orthodontia as a kid, but when I entered my 20s, my bottom teeth shifted a bit. So, I finally took the plunge and decided to get braces before they moved even more. No, I didn't have to get a mouth full of metal. I am wearing Invisalign -- clear retainers that adjust your teeth slowly, over time. The downside? Spontaneous kissing goes out the door since you have to wear them all the time. You have to remove them before eating or drinking, and they take longer to solve the problem than regular braces would. But, the good news is that no one knows I am wearing them and I can take them out whenever I want (even though you shouldn't take them out for more than two hours a day -- shhh, don't tell my orthodontist).
Whitening
: I'm sure you've heard me talk about
Crest 3D White Whitestrips Professional Effects
, $45 before. I LOVE them. Truthfully, the results are so amazing that there really isn't a need to get professional in-office whitening. And now it's gotten even better. They just launched
Crest 3D White 2-Hour Express Whitestrips
, $47. You leave these strips on for just two hours and you get whiter, brighter teeth for about three months. Amazing, right? No need to sit there night after night whitening (which is perfect for a girl on the go) or to drop a bundle to have them professionally done.
Brightening
: It's spring and that alone gives me reason to smile. So does the fact that juicy colors like coral and watermelon are a hot trend. The final way I'm making my smile shine is by wearing
CoverGirl LipPerfection LipColor in Sultry
, $6.99. The color is, well, sultry, and really makes my smile pop. Try it. I promise it'll make you smile, too.
You know what else makes me smile? Indispensible pro tips like these on how to
look pretty while exercising
.

Our Expert Guides