Why My Husband Gets Manicures: An Introspective

Posted by Kristen on October 1, 2010 at 05:33PM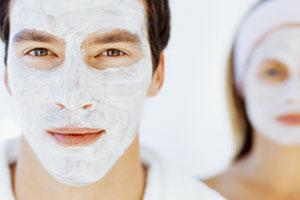 When you live with someone, you are bound to eventually find out all their dirty little "this is what I'm really like" secrets. When it's time to take the plunge and move in with your boyfriend/husband/lover, you get to find out that he finds you most attractive in a baseball hat and sweats (see other beauty tips that will make him melt), that he never closes his sock drawer all the way (NEVER), allowing you to bang your shin every time you walk by. Every. Single. Time. And that he secretly plucks between his eyebrows on Sunday nights in front of your magnifying mirror. Of course he learns fun facts about you too like, you don't wake up looking like a Victoria's Secret model and that you like to eat ice cream one sneaky spoonful at a time as you pass by the freezer.
This is all fine and good, but it wasn't until my guy asked me if the jeans he was wearing made his legs look "thick" (no joke) while checking himself out in the mirror one morning, that I realized I was dealing with a full blown metrosexual. This prompted me to cook up this fun little "How Metrosexual is Your Guy?" quiz. Take it now to find out if your guy is metro:
Has he ever used the word "collection" to describe clothing or in reference to a designer?
Has he ever applied self-tanner?
Does he know the calorie counts of food better than you do?
Does he know and openly embrace wine and food pairings?
If you answered YES to any of the previous questions than: yours truly is absolutely a metrosexual. Ever find yourself wondering where the heck your new exfoliating scrub went? Oh -- your main squeeze couldn't keep his perfectly manicured paws off it. You likely already know and love this about him, so no need to rock the Banana Boat (his fave self-tanner). Here are some things you two can gab about during your next mani-pedi date:
• If yoga just isn't cutting it these days, and he is totally sick of the Master Cleanse he started last week, make sure to let him know about these popular man diets.
• If ingrown hairs are a problem for him due to his constant shaving (of various areas), suggest an overnight cream that can help fight them like The Art Of Shaving Ingrown Hair Night Cream, $40.
OR
If your guy "reads" "Jugs" on a regular basis, thinks a grooming routine only requires some hair gel and buttoning his shirt properly, and trusts you to cut his hair (because frankly, he doesn't care what it looks like) than: Your guy is not a metrosexual and couldn't care less about following male fashion or grooming trends. Heck, you're lucky enough that he occasionally throws on a button-down shirt or shaves once in a while. Being "The Dude" is fine and dandy, but a little attention to detail never hurt anyone. Here are some important things you can remind him of while still embracing his super manly self:
• Chest hair is great, but it's beneficial to remember that it's not cave man time anymore, therefore he no longer needs all that man mane to keep warm. If he can French braid his back hair, some grooming is in order. Here is a good guide for guys on body hair removal: What to fix, what to keep when it comes to body hair removal.
• A little face wash, you know, just to remove the grime, won't wash off any of his masculinity. Put one next to the faucet that has a nice earthy color and scent like The Body Shop Tea Tree Oil Facial Wash, $11 to hone in on his primal tendencies.