The Best and Worst Products for Getting Plump, Kissable Lips

Posted by Kristen on February 16, 2010 at 05:39PM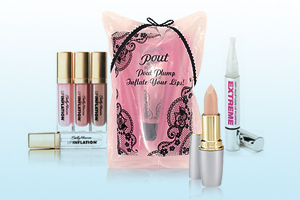 With Valentine's Day around the corner (oh joy) I got to thinking about all the boys I'd like to be kissing. Clooney, Clooney, Clooney -- er, sorry, lost my train of thought for a sec. Where was I? Oh, yeah … Then I started thinking about my lips and how I wish they were bigger. Then I got depressed and decided to write this blog. So … here goes.
To start, quickly think of someone with plump lips. Got it? Ok. I'm gonna say that you pictured a) Angelina Jolie, b) Jessica Alba, c) Lisa Rinna, d) every last one of those totally un-real "Real Housewives of Orange County".
Uncanny how accurate I am, huh? That's because when we see women with luscious lips we either think "beautiful, I wish I could have those" or "yikes! Why'd she do that?" (which was our sentiment when we saw these celebrity photos).
Happily -- especially for those of us thin-lipped girls who skeeve at the thought of injecting things into them -- there's a happy medium to be had in the form of cosmetic lip plumpers!
Remember when DuWop's Lip Venom hit the market and all us thin-lipped chicks high tailed it to Sephora to grab some? That stuff stung to high heaven, but did the job and, in so doing, ignited a craze that rages on. These days there are oodles of products on the market that actually do add oomph without all the "ow" and, alas, there are just as many that don't do much at all. Here we share a list of the plumpers TotalBeauty.com readers swear by and which they swear at.
The Worst:
No. 6: Fusion Beauty LipFusion XL, $50
Readers say this "very expensive, glorified lip gloss/plumper" doesn't work. Need more reasons to avoid this plumper? Read more reviews here.
No. 5: Maybelline New York VolumeXLSeduction Lip Plumper, $9.79
A lot of readers complained of the sting with this one. One said the "numbing sensation is very uncomfortable." See what they say about the flavor of this plumper.
Want to keep reading the negative? Click here to see the rest of the list or you can stick with me and move on to the positive.
The Best:
No. 6: Patricia Wexler M.D. Fastscription Advanced No-Injection Lip Plumper, $17.95
Rather than stinging or burning your lips, readers say "this one gently warms" and soothes, while filling in "the lines in your lips, making them look totally smooth and plump." See what they say about its plumping power.
No. 5: Stila's Plumping Lip Glaze, $24
Readers love how "this gloss makes your lips look succulent. There's just enough pigment and shine to make you look sexy yet natural," they say. See what else ladies like about this lip glaze and find out what the number one lip plumper was.
• Your sexy new lips are going to need partners in crime, so try these date-worthy hair and makeup looks.
• Won't touch lip plumpers with a 10-foot pole? Plump up your lashes instead with these expert tricks.