Skin Care News Flash: A Cure for Skin Cancer -- Really!?

Posted by Kristen on June 9, 2010 at 02:57PM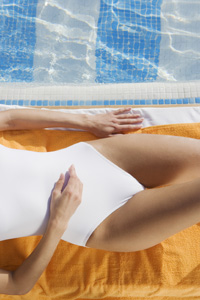 Listen up sun worshipers, there might soon be an available treatment and cure for skin cancer. But, don't put away your sunscreen just yet (see the best and worst SPF products here) …
"The Wall Street Journal" recently reported that the incidence of melanoma (a deadly form of skin cancer) is on the rise. According to NEJM, about 66,000 people around the world die annually from skin cancer, with about 80 percent due to melanoma. An estimated 8,600 people in the U.S. died from melanoma last year.
However, an experimental Bristol-Myers Squibb Co. (BMY) drug called ipilimumab just might change that. In a new study, terminal skin cancer patients taking this immune system-enhancing treatment lived an average of 10 months, versus nearly six-and-a-half months in a comparison group, but side effects were sometimes severe. BMY plans to file an application later this year for U.S. FDA approval to market the drug, ipilimumab, to patients with advanced melanoma who have received prior treatments. Read the full WSJ article here.
• Check out this trusty guide to healthy (sunless) tanning.
• Get your glow on the safe way with these top-rated bronzers.
• Get more skin care
tips and sun care info here.
• Want in on a little beauty discount secret? See how to get great deals and offers on beauty products here.
• Keep up with the latest in beauty -- follow us on Twitter, add us on YouTube and friend us on Facebook.